COSTING OUT YOUR TRAVELS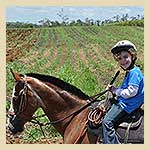 click to view image
The cost of your trip will depend on
How many are in your private travel group -- the more in your self-formed group, the less the per person cost.
What activities (beyond our horses)
What hotels you'll be using
What meals will be included -- Centaura's villas and the simpler rooms in the stable area, as with most hotels (not the high end hotels, however) include a really hearty breakfast
Whether or not you'll want to stay only with Centaura, on our farm, or you choose to move from place to place:
By public or tourist buses,
Using internal scheduled air flights,
Using a private "transfer only" mini-bus service (a driver and vehicle that transfer you from one location to another combined with other tourists wanting similar routes), or
With one of Centaura's bilingual Costa Rican experts as your guide, leader, horseback companion, using a private vehicle (usually 4-wheel drive).
Your own rental car (let us help you on the rental car arrangements, and avoid starting out in San José)
The cost, per person will normally vary from $1,950 to $4100 for a seven-night, eight-day experience. The variation is dependent on the variety of options listed above
We've published several Sample Itineraries (with prices) so you can see how we put together our horseback travel.
ONLY HAVE ONE DAY WITH CENTAURA?
Some people really only have one day -- such a shame!
Join us at the stables for a day. Ride in the countryside on dirt roads, through pastures and sugar cane, small villages and up into the hills, crossing rivers... in effect, becoming a Costa Rican campesino (country person) for a day. You'll be riding with one of Centaura's vaceros (roughly translated as a "cowboy", but meaning a person who knows horses) who can take you all over the area close to our stables.
The cost for a full day with Centaura is $140 per person (drinks, snacks and full lunch included). If you wish us to arrange transportation from San José, Fortuna, or elsewhere we would add the transportation cost to the above.
GROUP TRAVEL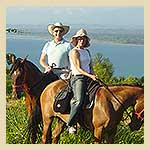 click to view image
Centaura will not put you into a "group". If you want to form your own "group" (we often work with families, sometimes even four generations.) we can handle everything you'll need or want while in Costa Rica (including one of our exceptional guides). Centaura can handle up to 8 persons at one time.
We apologize in advance for not creating horseback "tours". But our experience has shown us that people's expectations are so different, and horse experience varies so widely, that someone in such thrown-together groups will not be happy. So convince your horse friends to join you on a horseback adventure with us.