WHY CENTAURA EXISTS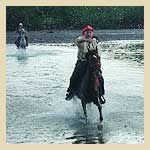 click to view image
While Centaura is a very modern facility, our roots go way, way back to the era when we made free time for our friends, for exploring small wonders, for simple pleasures.
Centaura Farm is where we live and where we are raising our children. Carolina, Andres and Mariano have learned great respect for our horses and for the people who care for the farm - old fashioned country values. Some guests become like family, going to school functions, riding with Andres as their guide, helping Mariano with English lessons, preparing big meals and parties with Monica, exploring routes with Esteban, helping Pedro with the birth of a new foal.
So come the first time just for the beautiful horses. And we hope you, like many of our guests, will come back over and over again... for the pure pleasure of our richer yet simpler style of life. What you may rediscover at Centaura is a part of your soul that you suspected was missing.
CENTAURA - TIME TRAVEL BY HORSE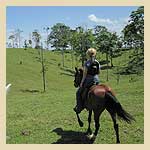 click to view image
Centaura puts the true believer back into the saddle, on animals that still hold their heads high, animals that quiver at the chance to share the journey when man and horse can leave the twenty-first century.
The era of the horse began before recorded time, more than 8,000 years ago. Even in the United States, until the early 1900's the horse ruled, the willing obedient partner/servant to the human. The era of the horse, though so recent in American history, is now long forgotten. Rural Costa Rica still relies on this ancient partnership.
Owning and riding a beautiful horse is sacred to the Costa Ricans, of all economic levels and of all strata of society. The joy of sharing your horse, and showing off your horsemanship, means that every week there's a parade or wager race or rodeo (open to everyone). Or, our favorite, a "cabalgata" -- traveling from farm to farm, sharing the bounties of the harvest, sharing the horses and gossip and local foods and spending time with the landowners and the field hands, united by their love of being on a horse. This style of "roundup" could happen only in a country which highly prizes its egalitarian society. It's not done for tourists (indeed, Centaura's guests will probably be the only participants or spectators not from the local communities). Nonetheless the welcome is genuine, the beams of smiles real, the admiration for your mount openly expressed. Everyone united by the love of the horse.
But these traditional annual festivals too shall pass into history in Costa Rica as the country's increasing wealth is replacing the horse with the machinery of progress. Centaura wants to share with you the spirit, the awe of horsemanship while we still have this option.